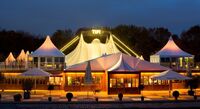 Podium discussion, Tipi am Kanzleramt Berlin
2022 - The Future of Product Responsibility - 8. November 2022
VERE e.V. News / 09/13/2022
At the end of a year 2022 that will be significantly shaped by the topic of "EPR", we will join you in Berlin/Germany to look into the future of product responsibility directly in front of the Federal Chancellery, free of charge for VERE members, take-e-way and trade-e-bility customers as well as partners, authorities and associations. As the number of places is limited, please register at your earliest convenience.
take-e-way News / 09/13/2022
"We source 90% of our goods from [...] distributors who are offering the products on a commercial scale on the German market for the first time. Amazon nevertheless requires us to…
take-e-way News / 09/13/2022
Similar to the extended producer responsibility for electrical/electronic equipment and batteries, the new provisions of the law will require all non-Austrian companies (both in…
take-e-way News / 09/13/2022
In the UK, despite Brexit, the Plastic Tax Act has been in force since 1 April 2022. Italy and Portugal have also already passed legislation on the plastic tax.